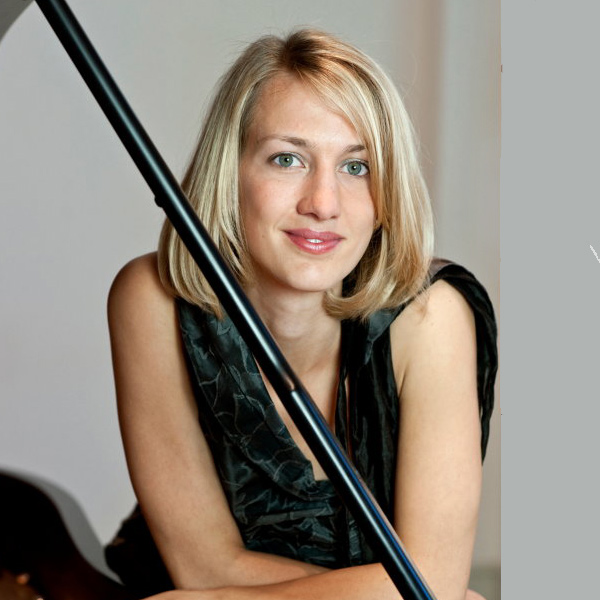 Cornelia Weiss
Klavierbegleitung

Masterclass viola
As a chamber musician and lied pianist, Cornelia Weiß regularly gives guest performances at various concert series and numerous festivals such as the Styriarte Graz, the Brucknerfest Linz, the Ruhrtriennale and the Orff Festival of the Bavarian Radio. Her busy concert schedule has taken her to Austria, Italy, Hungary, the Czech Republic and Switzerland.

In June 2017 her debut CD with works for violin and piano was released by the label Kaleidos Musikeditionen. She has also produced CDs for cpo and live recordings for SWR, HR and BMC.

The pianist received a federal prize at the "Jugend musiziert" competition and was awarded the Heinrich Vetter Young Talent Award for Lied Duo (with soprano Hanna Elisabeth Müller) at the beginning of her studies. This was followed by a 3rd prize and another special prize at the International Melodrama Competition 2014 in Prague.

During her studies with Prof. Michael Hauber in Mannheim and Prof. Alfredo Perl in Detmold she was supported by numerous foundations (e.g. Hanns-Seidel-Stiftung, Stiftung Villa Musica, NRW-Stipendium, Richard-Wagner-Verband Bielefeld).

The pianist discovered her special passion for chamber music and song at an early age. After completing her solo master's degree, Cornelia Weiss completed her training with Prof. Manuel Lange in song interpretation.

In addition, she received valuable impulses in her collaborations with Andras Schiff, Karl-Heinz Kämmerling, Ian Fountain, Günter Ludwig, Konrad Elser, Thomas Quasthoff, Ralf Gothoni, Karl-Peter Kammerlander, the Mandelring Quartet and the Auryn Quartet.

In addition to her busy concert schedule, Cornelia Weiß taught song composition, accompaniment and elementary music pedagogy at the Hochschule für Musik Detmold from 2012 to 2016 and is also a regular répétiteur at international master classes and competitions. From October 2018 she will teach string repetition at the Hochschule für Musik und Theater in Munich.

Another of the pianist's heartfelt concerns is music education. She has been teaching piano students of all ages and development levels for many years and assists her students in the preparation of competitions and entrance examinations. Since 2019 she has been active in the management of the music holiday weeks for children and young people of the Allgäuer Tonkünstlerverband.