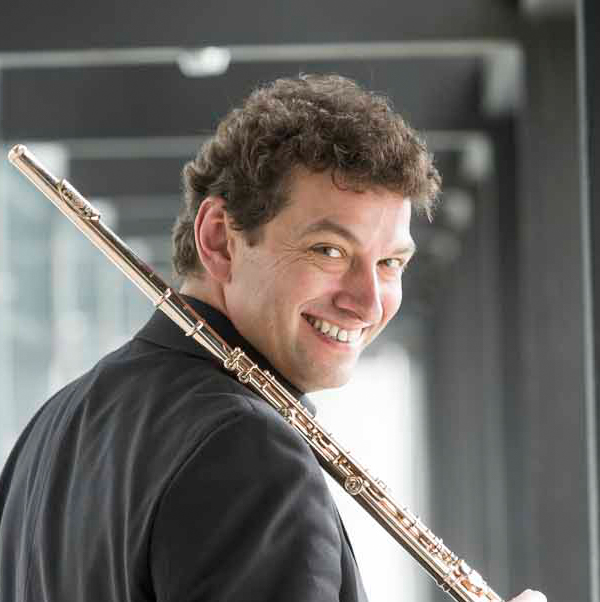 Kaspar Zehnder
Flöte - flute
Kaspar Zehnder has been the
artistic director
of
the Murten Classics festival since 1999
the Biel Solothurn Symphony Orchestra since 2012,
the Hradec Králové Philharmonic Orchestra (Czech Republic) since 2018 and
the International Summer Academy Biel/Bienne since 2019.
Born in Riggisberg (Canton Bern, Switzerland), where he actually developes the crossover festival Klangantrisch, he studied in Bern with Heidi Indermühle (flute) and Ewald Körner (conducting). In Zurich, Basel, Paris, Siena and at the European Mozart Academy, his most important mentors include Aurèle Nicolet, Ralf Weikert, Manfred Honeck and Charles Dutoit.

He regularly conducts

the Slovak Philharmonic,

the Bucharest Radio Symphony Orchestra,

the Sinfonia Varsovia and leading orchestras in Spain, Germany, France or Scandinavia
and works with soloists such as Patricia Kopatchinskaja, Isabelle van Keulen, Alison Balsom, Sergey Katchatryan, Anaïs Gaudemard, Viviane Hagner, Louis Lortie, Rafael Aguirre, Judith Jáuregui or Alena Baeva.

With the English Chamber Orchestra he led a gala concert in the presence of Prince Charles. With great success he participated in the Folle Journée Tokyo 2018.

As a flutist he has been playing for many years in the ensembles "Mit Vier" and "Ensemble Paul Klee". He performs regularly at important festivals, as chamber musician as well as soloist. In the autumn 2019 he will once appear again in a chamber music project with Sir Simon Rattle, Magdalena Kožená and friends. The same programme was already on tour throughout Europe in 2016 and will be produced on CD by Pentatone.

During the 2019/20 season, he will give concerts at Lincoln Center New York and at La Scala Milano. In view of the Beethoven year, he will conduct a "Fidelio" production in Biel and the Missa solemnis with the Philharmonic Choir Brno.

Plans include a Prokofiev cycle with pianist Claire Huangçi and the world premiere of Bartók's "Bluebeard" in the chamber version of Eberhard Kloke.

Rarities and discoveries are his passion: After the great success of premiere recording of symphonic works by Robert Radecke (5 diapasons/5 stars FonoForum) he's currently preparing the world premiere recordings of symphonic works by the Swiss conposer Joseph Lauber (1864-1952).

The production of "Weisse Rose" by Udo Zimmermann under his direction, was awarded the Armel Prize for Best Production of the Year 2017 and since then has been shown in Vienna, London, Oslo and Krakow.